Dato: 2008-03-26
Fomitopsis rosea
The fungi fomitopsis rosea grows on dead and decaying old spruces. It grows in old-growth spruce forests with good continuity in dead and decaying trees.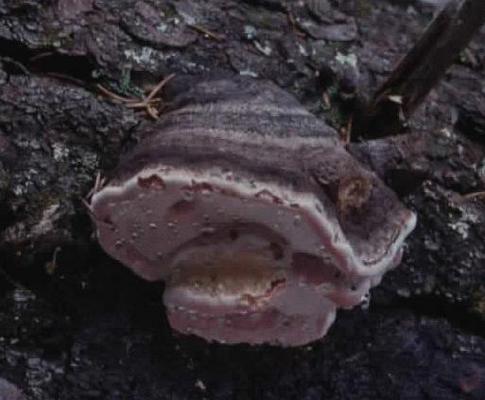 This means that the forest have grown for several hundred years whitout major human disturbances like logging. When such dont occur, you will find dead trees in old fazes of decaying. Large numbers of species such as several fungi, lichens, mosses and birds are dependent on such forest and elements for their survival. Such forests are today rare due to the industrial forestry, and therefor are many species threatened. Formitopsis rosea are not among the most threatened ones, but its regarded as care demanding on the Norwegian redlist of threatened species.
The fungi grows hats shaped as the foot of a horse on the fallen spruce trunks. It easy recognised by the beautiful pink colours. The species are found several places in Trillemarka, and quite frequently in old and moist spruce forests.
[Norsk tekst]